So do you want to Materials Run to get your own Materials to create your own guns instead of buying them? Well here's a simple Tutorial on how to run Materials.





Materials Pickup 1 To Materials Factory 1

Step 1: Go to the Materials Pickup 1 (highlighted in the picture below.)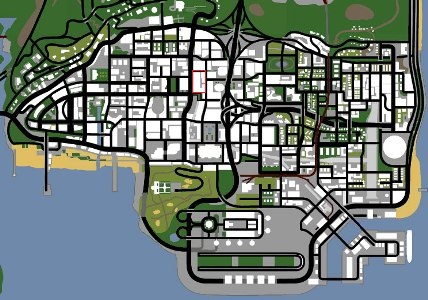 Step 2: Go to the marker in that alley way and type /getmats to buy some Materials Packages as seen in the picture below.
Then once you type /getmats a message in the chatbox similar to the one below should pop up.
Step 3: Take the Materials Packages that you just bought for $500 to the Materials Factory seen in the picture below, there is many different routes to get there but I just chose this one because it's the most common route to get from MP1 to MF1.
(This route is going through the sewers so there is actually a way to drive with this route, just enter the sewers from the ramp right by MP1.)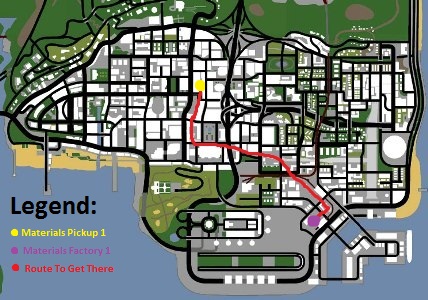 Step 4: Enter the Red Marker at the Materials Factory and it will turn your Materials Packages that you bought into some Materials that you can create weapons with. The Red Marker should look like the one in the picture below.
Something similar to the picture below should then pop up in the chat box telling you how many Materials you changed your Materials Packages into etc.
Step 5: Enjoy your Materials and your Weapons/Money that is made with/from them.
Well that's pretty much all there is to it, hope this helped anybody who didn't know how to Materials Run (Mat Run), just let me know if you need help with anything.
(I will add the Materials Pickup 2 to Materials Factory 2 when I have time to add them into this.)



Posts

: 206


Roleplay Experience

: 9724


Join date

: 2011-04-04

Character sheet
Style:


Yo thanks for the mats running tut!

can you make one for the drugs run to!?



Posts

: 23


Roleplay Experience

: 8687


Join date

: 2011-08-13


Location

: In you're exgirlfriend.






Posts

: 12


Roleplay Experience

: 8659


Join date

: 2011-08-09


Age

: 23





Similar topics
---
Permissions in this forum:
You
cannot
reply to topics in this forum